Six Sigma: It's Not Greek to Us
One of our favorite topics here at Vantage Agora is "Six Sigma."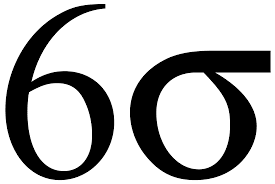 Six Sigma is a 
tool organizations can use to measure and improve processes
. "Six Sigma" is a term from the world of statistics and it refers to keeping actual results as close to the intended target as possible. Six Sigma uses a scale from 0 (low quality) to 6 (high quality) as an objective way of measuring quality.
Operational Excellence: Another Buzzword?
The last thing the insurance industry needs is more jargon. But operational excellence is more than a buzzword. We predict you'll hear about it frequently in coming months and years.
Why? Because 
the insurance industry absolutely needs this philosophy and approach to improve operations, manage costs, heighten sales and service, and build sustainable profitability
.
Operational excellence, by one definition, means: Organizational leadership that stresses the application of a variety of principles, systems and tools toward the sustainable improvement of key performance metrics.
Operational excellence lets you do more with what you have by 
aligning your organization and its people, processes and projects to your business strategy
.
But to us, #OPEX is not only a philosophy and a process, it's also an achievable goal. One organization, the Institute for Operational Excellence, defines the outcome of operational excellence this way:
"Each and every employee can see the flow of value to the customer,
and fix that flow before it breaks down."
Join the Club? Here's What It Is
ox zion is the name of the Vantage Agora operational excellence platform. It's a custom-built business enterprise platform to provide control, visibility and consistency of purpose to the work we do for our clients.
ox zion is for use by our team — and our clients — to interact, communicate, share information and process tasks.
Compare actual performance against goals.
Track progress on everything from the largest project to the most-minute task.
Evaluate key metrics.
Speed up training time and onboarding.
Improve efficiency and compliance of processes.
Use fun, performance-based "game" tools (gamification) to engage people.
Build relationships.
Our client, RISCOM, noted: "We cannot imagine running our company without [ox zion] even for a single day! ox zion ensures that we maximize our efficiency."
More on the name: In full disclosure, our co-founders 
Sudhir Achar
 and 
Harsha Chaturvedi
like — no, love — the game of golf. They love being at the club and swinging the clubs.
Just for Fun: Don't Take a Mulligan for Granted
It's important to know local customs. Enjoy this joke from the world of golf:
A U.S. citizen, vacationing in Ireland, decides to play golf on a beautiful local course and is paired with three residents. He steps up to the first tee and hooks his first shot out of bounds. He shakes his head, reaches in his pocket, and tees another ball. He makes a great shot down the center of the fairway.
With a smile, he says to the others: "In the U.S., we call that a Mulligan. Was wondering what you called it here in Ireland." After a moment of silence, one of the locals replies, "Hitting three off the tee."
— Cathy McCartney Happel via PGA.com